Thursday, April 6th, 2017 at 12:50 pm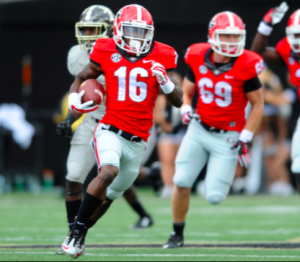 The Human Joystick. The guy that moved through opposition players like they were nothing, with the screams of joy emanating from the fans behind him. The human highlight reel. The one-of-a-kind for that season.

And now, Georgia fans, Isaiah McKenzie is gone. And with him will be his numbers.
Georgia fans will talk about reloading after McKenzie's decision to opt for NFL riches after his junior year, but it's going to be really, really difficult.
McKenzie not only brought a receiving threat to the table (663 yards, 7 TDs on 44 receptions, going for an average of 14.4 yards/ reception), but also brought a running threat too (134 yards, 2 TDs on just 19 carries, averaging 7.1 yards/play). He also returned 23 punts (for 245 yards and a touchdown).
If you want to take this as total, the hole that McKenzie will leave will be even bigger. He accounted for 26% of all total receiving yards, 20% of all receptions, and – this is the most galling – 43% of all total throwing touchdowns. Thanks to Nick Chubb and Sony Michel, his loss won't be felt hugely in the Georgia backfield, but still.
For a moment, take away the fact that the Dawgs have a young offensive line, and this could be yet another season where red-clad fans see opposition linemen run through their line, and let's just look at the talent coming back to Sanford….
WHO FROM THE RETURNERS REPLACES HIM?
Sony Michel (RB): We liked how he was used out of the backfield over the last couple of years. He's a definite game-changer. Had 149 yards receiving on 22 receptions. The problem for Georgia will be whether they can keep Michel healthy. He's had injury problems for the last two years. Which is unfortunate, for a man of his talent.
Terry Godwin (WR): Underimpressed in just about every game last year. He had 38 receptions for just 397 yards and no touchdowns. That's hardly a massive return for the five-star recruit. His averages from 2015 to 2016 barely improved. But Godwin's going to be the No.1 receiver in Athens next year – and will have to prove it.
Riley Ridley (WR): Ridley's freshman season in Athens was a pretty productive one. He had 238 yards on just 12 receptions – although we're a little worried that he was actually targetted 22 times. He's also injured his foot, so he'll definitely not play the Spring Game and probably be out until mid-summer.
 Jeb Blazevich/ Isaac Nauta (TE): Smart's use of the TE is very Saban-like, and the increasing use of them continues bring a new dimension to the attacking game.
Javon Wims (WR): The former JUCO transfer started only 3 games but still had 190 yards on 17 receptions. And no fumbles.
WHAT ABOUT THE FRESHMEN?
There are things to be excited about for the Bulldogs. 6ft 2 incoming freshman (and four-star recruits) Jeremiah Holloman and redshirt freshman Mark Webb ought to bring in some size out wide for QB Jacob Eason, and both Matt Landers and Trey Blount are both considered to be a little raw.
SO IN OTHER WORDS….
McKenzie will be pretty much irreplacable in 2017 with what he brought to the offense. There aren't a lot of players that were a three-headed hydra of offense like he was. We expect UGA to go more towards the run this year – despite having Eason's cannon. The reason? The offensive line. We're not sure if he'll be as lucky in his second year to survive as he was in his first.