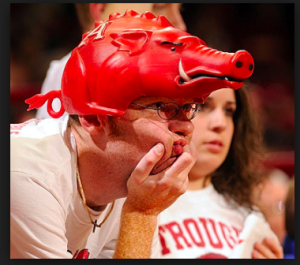 There are 13 coaches left in the SEC (Florida already fired Jim McElwain at the speed of a swimming shark, so they aren't on the list), which means that all 13 could get fired at season's end. We think it's pretty unlikely, but knowing how many are on the hot-seat RIGHT NOW, anything could damned well happen.
So here's our 1-13 list.
1) TENNESSEE — BECAUSE WE WANT CHAMPIONS OF THE SEC, NOT CHAMPIONS OF LIFE, YOU HORSE'S ASS. 
Because Butch Jones is a Champion of Life, but Tennessee is trash- like his sideline garbage can. Blowout losses to Alabama and Georgia probably pissed Orange Nation off, but heartbreak losses to Florida, Kentucky and South Carolina – without looking particularly unlucky in all of them- has made it worse. AD John Currie has also got a massive amount of public pressure wanting Jones' head, which he'll probably bow down to. Recruiting commitments are already falling away from the school, and SEC competitors can sniff blood. If Jones is back for 2018, Knoxville will burn.
2) OLE MISS —BECAUSE YOU AIN'T COACH FREEZE AND YOU AIN'T THAT GOOD.
We don't know if interim head coach Matt Luke's position will be filled by him at season's end, but we don't expect so. While Ole Miss' offense is buzzing along pretty nicely, the defense has been awful (118th in the country). Also, losing to Cal, Arkansas and just surviving Kentucky probably hasn't made the locals happy, either. Oh, and Ole Miss has the recruiting violations sitting over the school's head, as well as the self-imposed bowl ban, isn't a good thing. At least he's not calling escorts in Tampa, though.
3) ARKANSAS — BECAUSE EVER SINCE JENN TWEETED 'KARMA', Y'ALL HAVE BEEN PRETTY MUCH TERRIBLE.
The Razorbacks have once again been awful in SEC play. The only team they've beaten is a poor, poor Ole Miss side, and they've been pretty-much swatted by everyone else….apart from Texas A&M, who they managed to find a way to lose to (yet again). His record with the Razorbacks in SEC play is a piss-poor 11-26, which won't help the local humor – despite the fact that the school's playing in a miserably-strong SEC West. But the really kicker is that local newspapers found out that Bret Bielema's buyout is $5m, not $12m…which is a hell of a lot more affordable to the school and its boosters (CALLING JERRY JONES!!).
4) TEXAS A&M — BECAUSE WE CAN'T DEAL WITH BEING CRAPPY IN NOVEMBER AGAIN.
After a stunningly stupid loss on Week 1 to a team that's probably going to fire its coach (UCLA) to a recent collapse against Mississippi State and Auburn, A&M fans and boosters seem to be fed up with the Kevin Sumlin era. 'Can't win in November Kevin' has apparently been told that his butt is out at the end of the year, although those rumors will have to be seen to believed. But if A&M goes 1-2 against New Mexico, Ole Miss and LSU, Sumlin's got problems (we're expecting 2-1). The fact that A&M star recruit Kenny Hill is now kicking ass at TCU probably hasn't helped the local's humor, either.
5) MISSOURI — BECAUSE LOSING TO PURDUE AND STRUGGLING AGAINST MISSOURI STATE AND LOOKING CLUELESS DEFENSIVELY DRIVES EVERYONE CRAZY.
Two definites about the season right now. The Tigers are surging, and Barry Odom's job is not safe. And we think he'll be out if Mizzou loses to Tennessee, Vanderbilt and Arkansas. We think he needs to go 2-1 or 3-0 to really save his job – even if he delivers one of the greatest sermons since Billy Graham. Listen, the trampling of Florida did good things for Odom's job security, but – like his defense- it can all go to the crapper very quickly. Oh, and the recruiting's not looking too hot, either, with a spate of decommits.
6) AUBURN — YOU LET US DOWN THE WHOLE TIME, GUS (AND WE HATE BEING THE SECOND TEAM IN ALABAMA). 
If Malzahn leaves, it won't because he hasn't been successful in the past. He's taken Aubie to a National Championship Game, after all. The issue will be that 2017 has been a massive disappointment – mainly because of the excitement surrounding incoming Baylor transfer Jarrett Stidham to The Plains. Everyone expected an explosive offense from Week 1, and didn't get it. They've struggled against top defenses, and the conservatism shown against LSU while having a big lead really enraged the locals. And there's nothing that pisses off Auburn fans more than losing to Alabama, Georgia and LSU (in that order, depending on who you ask) in one season. If that happens – and the lost games aren't heartbreakers – then Malzahn may well get his leaving papers.
7) LSU — BECAUSE WE LOST TO TROY, WE DON'T HAVE A QB, AND WE CAN'T PLAY WELL FOR FOUR QUARTERS AGAINST ANYONE EXCEPT MORMONS AND FCS SCHOOLS. NOW GIVE ME SOME DRIVE-BY DAQUIRI FOR THE WAY HOME.
The games that LSU have played well in have been against BYU, UT Chattanooga, and Ole Miss. LSU has played in a second half against Auburn. LSU's defense might have played well against Florida (offense did nothing against a poor, poor team), and had a Lazarus-like win against Auburn, but LSU hasn't managed to put it together for four quarters against the GOOD teams. Hell, Syracuse isn't even that good. What's been more unforgiveable is that the quarterback play has been downright crappy. Blame Les Miles all you want for his lack of recruiting at the position, but this is terrible. But what might get Ed Orgeron pushed over the cliff is the loss against Troy, and if Joe Alleva really feels like it, showing everybody the heavy loss at Mississippi State, the struggles against Syracuse, and the first half against Auburn.
8) MISSISSIPPI STATE — IT'S MORE ABOUT HIM THAN THEM
Dan Mullen is absolutely adored in Starkville. The fans that wave the Cowbells love him, AD John Cohen loves him, the boosters love him, and he's got so much love that they've made him very wealthy indeed. The problem for MSU is that Mississippi isn't a fertile recruiting ground, and Florida and Tennessee might come calling with a lot of money. Or some other big teams out there. Listen, we think Mullen's (probably) going to stay, but after he talked to Miami before Mark Richt got the job there, we're not quite sure of his loyalty to Team Cowbell.
9) VANDERBILT — BECAUSE WE CAN'T WIN IN THE SEC
Vanderbilt's on course to win ZERO SEC games for the second time under Mason's watch. James Franklin won 11 games in SEC play in 4 years. Listen, Vanderbilt's win over Kansas State was good, but since the fans yelled "We Want Bama" (somewhat jokingly), the Commodores have gotten their asses kicked. Listen, we get that Vanderbilt's never going to be a big-time SEC program (we still believe the school was invited because it's private and it's more academic than 13 of its rivals), but Derek Mason doesn't really have Vandy feeling mediocre at the moment….and after Franklin spoilt the school a bit, things could look better with another coach.
10) KENTUCKY — BECAUSE WE HAVEN'T LOOKED GOOD ALL SEASON
Kentucky fans must be overjoyed to be bowl-eligible, but Kentucky actually hasn't looked good all season long. Their best win was probably over South Carolina, which was helped by an horrific injury to Gamecocks' star  WR Deebo Samuel (otherwise we think the Wildcats would have lost). Otherwise….Eastern Kentucky? If the Wildcats get their asses handed to them at the end of the season by Louisville (and go 0-3 in the process), then the hot seat warms for Mark Stoops.
11) SOUTH CAROLINA – BECAUSE GEORGIA AND CLEMSON'S LOOKED SO DAMNED GOOD, AND THE GAMECOCKS AREN'T.
Will Muschamp might talk a good game and have the haircut of any good SEC coach, but these are the facts: South Carolina's getting owned by its biggest rivals – Georgia and Clemson. And growth in the rival programs can only mean one thing in Columbia: Fits of jealousy. And while Georgia Tech probably gripes about UGA about it but knows its place on the totem poll (weird wins over the Dawgs punctuated by years of pummeling), South Carolina thinks it's much bigger than it actually is — not helped by Steve Spurrier, who then abandoned the program mid-season to go play golf (he resurfaced at Florida quickly, showing no sign that he gave two craps about his time at South Carolina whatsoever). Muschamp has vastly improved this Carolina team (it's bowl eligble for the second time in a row and hasn't played horribly against anyone except Tennessee this year, but haters gonna hate as rivals get bigger.
12) ALABAMA — BECAUSE WE DON'T LOSE BACK-TO-BACK NATIONAL CHAMPIONSHIPS
If Alabama was to lose in the College Football Play-Off, SEC Championship Game, or even to Auburn, Paul Finebaum's hotline would explode, Twitter would explode, Harvey Updyke and Smoking Lady would explode, and Nick Saban's head would definitely explode. Some tool will call for Saban's head (Crimson Tide fans don't take losing well), and that's why he's at No.12. Also, we're sure that after this week's College Football Rankings where the Tide were ranked No.2 for the second week in a row, the gripers are already griping. Oh, and we're heard Nick Saban wants the job as Governor Of The World, anyway. It's bigger than the Texas job, apparently.
13) GEORGIA — BECAUSE THAT KIRBY SMART SUCKS AND WE WANT MARK RICHT BACK
Mark Richt wins the National Championship + Kirby Smart loses in agonising fashion in the SEC Championship Game/College Football Play-Off/to Auburn = Georgia fans begging Miami to swap coaches. Georgia fans – like the rest of college football – could never be accused of being short of a good grumble.
NOTE: THE NEW FLORIDA COACH WILL BE ON THE HOT-SEAT IN 2019 IF HE DOESN'T BEAT FLORIDA AND LSU IN 2018, RECRUIT THE NEW TIM TEBOW OR DANNY WUERFFEL AND HAVE THE GATORS IN THE PLAY-OFF BECAUSE THAT'S WHAT THEY EXPECT DOWN IN GAINESVILLE. FLORIDA'S AD SHOULD ALSO LOOK FOR A NEW JOB IF HE DOESN'T HIRE THE NEXT URBAN MEYER OR STEVE SPURRIER. 
Filed under: Alabama • Arkansas • Article • Auburn • Florida • Georgia • Kentucky • LSU • Mississippi State • missouri • Ole Miss • South Carolina • Tennessee • Texas A&M • Vanderbilt
Like this post? Subscribe to my RSS feed and get loads more!