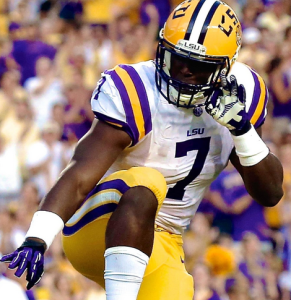 Is that Derrick Henry? Is that Nick Saban? Is that Lane Kiffin with Nick Saban's daughter? Is that Leonard Fournette, brushing off all the reporters as he goes? Is that Les Miles, who's stopped to say something that no-one understands?
Yes folks, it's your quarterly SEC Football Blog Awards, given out to the players, teams and coaches who have made a difference – good or bad – in the first quarter of the season. And afterwards, we can all go to Chilli's with players from the University of Georgia and threaten people.
(DRUMROLL PLEASE)
THE GOOD AWARDS
BEST PLAYER
Leonard Fournette (LSU)
BEST IMPRESSION OF THE INCREDIBLE HULK 
Leonard Fournette, in his performance against Auburn.
BEST QUARTERBACK PERFORMANCE
Greyson Lambert (Georgia)'s performance against South Carolina was something special, when he went 24-25 for 330 yards and 3 TDs.
BEST QUARTERBACK ESCAPE FROM PRESSURE TO PULL SOMETHING OUT OF HIS REAR
Chad Kelly (Ole Miss) against Alabama, where he avoided the sack – and getting himself killed- by the throwing the ball up to ANYONE and it was deflected off an Alabama player and into the arms of Quincy Adeboyejo, who took it to the house.
BEST DEFENSIVE PLAYER
Myles Garrett (Texas A&M)
MOST IMPROVED DEFENSE
That'll be your Texas A&M Aggies. New DC John Chavis has done wonders. Might need to sort the "stop the running back down the middle" game.
BEST NEWCOMER
Christian Kirk (Texas A&M) is – as mentioned on the Solid Verbal – already one of the most exciting players in college football.
THANKS FOR STAYING AWARD FOR SENIORITY
Dak Prescott (Mississippi State) – Has been pretty great this year for Mississippi State, who ran LSU close and beat Auburn on the road in the last four weeks. Prescott's been the key. He might not be the Heisman contender…but he should be.
TEAM WE WERE CONCERNED ABOUT BUT ACTUALLY ARE OK
Mississippi State. This is a pretty solid team Dan Mullen's put together after so much talent left in 2014. Thanks for staying, Dak Prescott.
TEAM WE WERE CONCERNED ABOUT BUT MIGHT NOT BE GODDAWFUL
Vanderbilt. Terrific defensive performance against Ole Miss indicates things might be turned around a little in Nashville. Anchor…up?
TEAM THAT MIGHT REALLY BE QUITE GOOD THIS YEAR
Florida. Jim McElwain's turning this boat around, folks!!
TEAM WE'VE BEEN LAUGHING AT OVER THE YEARS BUT MIGHT HAVE TO TAKE NOTICE OF NOW..
Kentucky. Apparently the "BB" in "BBN" doesn't stand for basketball, but stands for "Big Blue". Nice, Mark Stoops.
AND NOW, THE MOMENT YOU'VE ALL BEEN WAITING FOR….THE BAD AWARDS!! AND DON'T WORRY, AUBURN, YOU'RE NOT GOING TO CLEAN UP THIS YEAR….
PLAYER WE THOUGHT WAS GOING TO BE A HEISMAN CONTENDER BUT OUTRIGHT SUCKED
Jeremy Johnson (Auburn). He is a human tire fire. Let's hope that Johnson is studying hard, because he might need that degree when all is said and done.
WORST QUARTERBACK MESS
South Carolina. Steve Spurrier's on No.3 right now. Auburn's on No.2, for those of you counting.
BIGGEST OFFENSIVE ****-SHOW
Missouri, Missouri, Missouri. No quarterback, no running game, and the receivers can't catch.
YELLOW FLAG AWARDS FOR DRIVE-YOU-CRAZY-PENALTIES
LSU's 28 penaties for 258 yards (9.2 yards/penalty) IN THREE GAMES takes some beating. Arkansas leads the SEC with 31, by the way.
WORST SPECIAL TEAMS EFFORT, BROUGHT TO YOU BY THE UNIVERSITY OF TEXAS
Alabama in the Tide's loss to Ole Miss included two fumbles on kick returns early, which included TWO kick-off return fumbles. Alabama went 10-0 as a result, and never recovered.
WORST DEFENSIVE EFFORT WHILE HAVING A 4TH QUARTER DOUBLE-DIGIT LEAD 
Tennessee. That's to you for the Oklahoma and Florida games.
TEAM THAT WE THOUGHT WOULD BE SEC CONTENDERS BUT….AREN'T
Auburn…..Tennessee….Arkansas….. Take your pick.
MOMENTS THAT WILL HAUNT HIM FOREVER BROUGHT TO YOU BY "#KARMA" BY JEN BIELEMA
"Ohio State's ranked No. 1 and they have one game remaining on their schedule that has anybody ranked right now — Michigan State. We're going to play eight straight opponents that are ranked." – Arkansas coach Bret Bielema. His team then lose to Toledo the next week. And Texas Tech the week after. And Texas A&M in overtime the week after. And…
(Quiet Clap, clap, clap)
And your bonus category:
FUNNIEST STORY IN THE SEC THIS QUARTER 
Lane Kiffin's getting fired from Alabama!! – Apparently, Lane Kiffin was getting fired at Alabama the Thursday before Saturday's game with ULM for sleeping with Nick Saban's daughter. The rumor mill went through the roof….and it didn't happen. We don't know if he DID sleep with Saban's daughter, but he wasn't fired.
SEE YOU NEXT TIME FOLKS!!!
Tagged with: Aggies • Alabama • Arkansas • Auburn • Bret Bielema • Bulldogs • CFB • College Football • Crimson Tide • Dak Prescott • Florida • Gators • Hugh Freeze • Jen Bielema • Jeremy Johnson • Jim McElwain • Lane Kiffin • Leonard Fournette • Les Miles • Mark Richt • Mississippi State • Missouri • Nick Chubb • Nick Saban • Ole Miss • Predictions • Saban • SEC • SEC East • SEC West • South Carolina • Steve Spurrier • Tennessee • Texas A&M • The Swamp • Tigers • UGA • Vanderbilt • Will Muschamp
Filed under: Alabama • Arkansas • Article • Auburn • Florida • Georgia • Kentucky • LSU • Mississippi State • missouri • Ole Miss • South Carolina • Tennessee • Texas A&M • Vanderbilt
Like this post? Subscribe to my RSS feed and get loads more!