Will Ole Miss Beat Bama? Week 3 SEC Predictions
Thursday, September 17th, 2015 at 2:00 am by Alex Haddon
We had to eat a little humble pie in the SEC this week. With Arkansas losing to Toledo, Auburn shoulda-losing to Jacksonville State, Tennessee coughing up a 17-point lead and Missouri and Florida struggling with mighty Arkansas State and ECU respectively, this was not a good week for our conference.
And it was a shitty week for the SEC Football Blog personally, going 10-1 in games straight up (thanks, Arkansas). We were right on the money in the Oklahoma vs Tennessee game (Sooners won by 7), one-point close in our Ole Miss (41 actual vs 42 prediction) and LSU calls (3 vs 2) and two out with Texas A&M (33 vs 35). The rest of them were absolute trainwrecks. Our biggest kick-in-the-footballs? "Auburn by 58".
This week, things will get sporty with Ole Miss travelling to Alabama, Auburn going to LSU, South Carolina playing Georgia, Kentucky at Florida….and Austin Peay going to Vanderbilt (just kidding, Vandy fans!).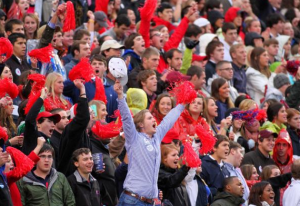 So here we go….
No.15 Ole Miss at No.2 Alabama
Here's some fun facts. Ole Miss hasn't won in Tuscaloosa since 1988, and has only beaten Alabama since 1989. But they're unbeaten against the Crimson Tide since 2014!!! Anyway, the books don't think Ole Miss- who boast an offense that's had back-t0-back 70 point games so far this year – will make it two in a row, making Alabama six-point favorites. Ole Miss is going to have to be effective at running the ball against Alabama's seriously good front, and are going to have to stop Derrick Henry, who has been the Tide's own bull elephant so far this year, helping himself with 6 TDs so far. While we're pretty confident that Robert Nkemdiche's going to get to Jacob Coker/Cooper Bateman, the question is this: Can Chad Kelly avoid getting himself killed long enough to get the ball to Laquan Treadwell and hurt Alabama's secondary, which we're still not convinced about? And you'd be wise to remember this: The last time Hugh Freeze brought a highly-touted Ole Miss team to Tuscaloosa, they lost in a  33-14 rout. And it really wasn't that close.
PREDICTION: On a day that College Gameday's in town, Alabama wins, and wins by 10. 
2. No. 18 Auburn at No. 13 LSU 
YES, WE GET THESE THINGS: AUBURN NEARLY LOST TO JACKSONVILLE STATE! LES MILES GIVES LSU FANS A HEART ATTACK! LES MILES KNOWS NOTHING ABOUT CLOCK MANAGEMENT! AUBURN HAS NO QUARTERBACK! LSU HAS NO QUARTERBACK! LSU HAS LEONARD FOURNETTE!
As this is your CBS 3.30pm game, we expect Verne and idiot Gary to talk non-stop about these things. We expect Death Valley to be rocking, even at 3.30pm on a Saturday (a 3.30pm game just means LSU fans drink earlier), and thirsting for revenge after they were shellacked at Auburn last year. Of course, there will be pressure on Auburn's Jeremy Johnson, who's been pretty lousy for the last two games. There will be pressure on LSU's Brandon Harris to play more actual quarterback – and that'll mean throwing the ball – if Auburn can actually stop Leonard Fournette. You can expect Will Muschamp to load the box. And maybe this comes to down to clock management, and LSU missing more tackles than Auburn. And Les ****ing Miles.
PREDICTION: LSU's a seven-point favorite, which would seem right. I actually have to call a winner for this, so I'm going for Auburn by 4 in the "upset". 
3. South Carolina at No.7 Georgia
South Carolina's a trainwreck at the moment, and at the position of quarterback it's so bad that the guys at "Sold Verbal" said that Connor Mitch going out with a hip injury "might improve the quarterback play". If we're honest, Mitch's hip injury isn't one we'd wish on anyone (We'd like to note that we don't wish injury or death on players or TV broadcasters). Pharoh Cooper – who has had just 12 receptions, 145 yards and 1 TDs – is expected to be a gamechanger (expect draft people to say: "It wasn't his fault his quarterback was so crappy"), but how can he be a gamechanger in THAT offense? But this could be the battle of the goddawful quarterbacks. We trust Georgia's Greyson Lambert as much as we trust Perry Orth to lead USC's offense. Georgia has the better running backs and defense, and this might make the difference for a Sanford crowd screaming: "PLEASE DON'T **** IT UP AGAINST SOUTH CAROLINA AGAIN, DAWGS!!". Maybe.
PREDICTION: Georgia's a 17-point favorite. We think they win by….21. 
4. Florida at Kentucky
Kentucky's impressive road win at South Carolina proved that they've got solid RBs in "Boom" Williams, JoJo Kemp and Mikkel Horton, and a pretty good QB in Patrick Towles. Florida goes into Kentucky having held off the Wildcats 36-30 in 3 OTs. I think UK's fans are STILL grumbling about the delay of game penalty that wasn't. Anyway, we don't know what quite to expect of both teams. Florida struggled against East Carolina, which Kentucky ran out to big lead at South Carolina and was one near-turnover from losing. Again, we're not sure. We ARE sure that Commonwealth Stadium will be rocking, though.
PREDICTION: Florida is a 3-point favorite. They'll win by 7. 
5. Arkansas vs Texas Tech
Last season Arkansas ran all over Texas Tech – and in particular Jonathan Wiliams, who did most of the damage. Well, this season Williams is injured, and Arkansas stunned the college football world by losing at home to Toledo. Arkansas still has an excellent running back in Alex Collins, and as much as we've teased Brandon Allen about nailing the crossbar with a throw (he managed that against Toledo)/overthrowing his wide receivers inside the 20 (he managed that three times)/his early Heisman shot (Yeah, about that….), Texas Tech still has a very poor defense. Tech's offense, however, is still no problem (128 points in 2 games).
PREDICTION: Arkansas is a 11.5-point favorite. We're taking the Razorbacks by 14. 
6. Nevada vs No. 17 Texas A&M 
Texas A&M is expected to win this one. And win this by a mile. Hence the reason why they are 35-point favorites. Nevada played Arizona close and then dissolved to a 44-20 loss, and don't expect them to be able to fire that quickly in Kyle Field.
PREDICTION: Texas A&M continues to cruise, winning by 35.
7. Connecticut at Missouri
Missouri fans were furious about the poverty that was Missouri offense in the win against Arkansas State. They don't like Maty Mauk, or the options at running back. Or anything. The defense is OK, though. UConn will come into a maybe-75%- full Faurot Field with two wins under their belt (five point wins vs Villanova and Army both) and after the hideousness of last Saturday, Missouri fans will be nervous.
PREDICTION: Missouri's a 21-point favorite. They'll win by 25. And not look very good doing it. 
8. Western Carolina at Tennessee
We can guarantee that the atmosphere against Western Carolina's not going to be like the one against Tennessee. UT's going to have to get back off its knees are giving up a 17-0 lead to lose in double-overtime. UT's going to have listen to the critics against use words like "young", "unready", "unworthy", and Butch Jones is going to have to listen to comments about the imbalance between his recruiting and his coaching. Western Carolina's not even considered by the bookies in this one.
PREDICTION: Tennessee by 42. 
9. Austin Peay vs Vanderbilt
Vanderbilt actually hasn't been as horrible as people who haven't seen any of their games would love to point out. Against Georgia they could have lost by 40, but they just didn't give up — like the lady fan (WHO ARE YOU??) who sat in an abandoned student section watching the game while the rest of the Vanderbilt student fanbase walked off. Anyway, Austin Peay rolls in after losing two straight games and scoring only 13 points. Vandy's a 40.5-point favorite, by the way.
PREDICTION: Vanderbilt wins by 42!!
10. Northwestern State vs Mississippi State
They'll be some cowbells a-clanging. Dak Prescott and the guys are a 39.5 point favorite, and we expect damage to be done to a Northwestern State 'D' that's given up 78 points so far this year after the latest in the list of heartbreaking losses meted out to that tremendous fanbase.
PREDICTION: Mississippi State by 42.
Tagged with: Aggies • Mississippi State • Missouri • Nick Saban • Ole Miss • Predictions • QB • recruiting • Saban • schedule • SEC • SEC East • SEC West • South Carolina • Spurrier • Steve Spurrier • TAMU • Tennessee • Texas A&M • Tigers • UGA • Vanderbilt • Will Muschamp
Filed under: Alabama • Arkansas • Article • Auburn • Florida • Georgia • Kentucky • LSU • Mississippi State • missouri • Ole Miss • South Carolina • Tennessee • Texas A&M • Vanderbilt
Like this post? Subscribe to my RSS feed and get loads more!