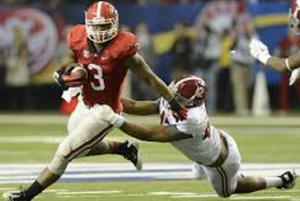 After another highly-successful NFL Draft, SEC draftees from 2015 are GOING to make an impact in 2015. Sadly, after his ACL tear on Friday in the Jacksonville Jaguars' first minicamp, one of them's not going to be the SEC's No.1 pick, Dante Fowler (went  No.3 in the draft).
1.    AMARI COOPER (OAKLAND RAIDERS)
The former Alabama wide receiver was taken as the best player at that position on the board, despite others seeming to love Kevin White. If his quarterback can throw properly to him, Cooper's going to cause havoc.
2.    TODD GURLEY (ST LOUIS RAMS)
Look, we know he probably won't start the first few games for the Rams because of his bust ankle, but Todd Gurley (TGIII ANYONE?) is going get the Gurley Girls going from Athens to St Louis with rampaging play. He'll hurdle defenders or blow past them with his breakout speed. Here's to him staying healthy, too.
3.    LA'EL COLLINS (DALLAS COWBOYS
Undrafted because the New Orleans Police Department took their time in talking to him with regards to his murdered ex-girlfriend and NFL Scouts thought he might have 'character issues' , the Cowboys snapped one of the top offensive linesmen in the draft. He could well start on Opening Day. Which will give Romo and his running backs even more protection.
4.    TJ YELDON (JACKSONVILLE JAGUARS)
A lot of people don't like his upright position or the fact that he fell away in his junior year, but we'd like to note that Nick Saban loves to run two or three running backs, and Yeldon's going to be a difference-maker in Jacksonville. He's speedy enough to cause problems in droves.
5.    DORIAL GREEN-BECKHAM (TENNESSEE TITANS)
Anyone who's read my tweets or copy will know that I don't like Dorial Green-Beckham. It's not because of his football talent- the guy was shaping up to be one of the best wide receivers in the SEC, but because he failed to properly explain himself about what actually happened the night he was accused of domestic violence. Having said that, DG-B will be an excellent weapon for Mariota, and could well be his team's No.1 receiver sooner rather than later.
6.    SENQUEZ GOLSON (PITTSBURGH STEELERS)
Ole Miss alumnus Golson might be short, but the cornerback's got the speed and skills to cause some immense disruption for AFC North offenses this year. Plus, the Steelers are pretty desperate for secondary players, so Golson will start Week One. We think.
7.    SAMMIE COATES (PITTSBURGH STEELERS)
I really like Coates, and was pretty stunned when he went as low as Round 3. He's great in the air, and can beat a secondary with his speed. We love him. Expect Coates to get quite a bit of playing time with the Steelers this year, as Ben Roethlisberger continues to throw the ball around – especially with his running back and chief attack weapon Le'Veon Bell suspended for the first three games.
8.    CAMERON ARTIS-PAYNE (CAROLINA PANTHERS)
Am I the only person who thinks that Carolina got a huge bargain with the fifth-round pick of Artis-Payne? He was great as an out-and-out running back (1,608 yards, 13 TDs) and good as a receiver (147 yards on 13 passes). He'll be a weapon for Cam Newton this year.
9.    MARKUS GOLDEN (ARIZONA CARDINALS)
The linebacker from Missouri was immense last season, which had 10 sacks and three forced fumbles. He's a fantastic pass-rusher, and we expect him to win the training camp battle
10. SHANE RAY (DENVER BRONCOS)
Tackling machine that'll cause offensive co-ordinators headaches. If he's effective in camp, DeMarcus Ware could be sharing time with Rey sooner rather than later.
Tagged with: Alabama • Arkansas • Artis-Payne • Auburn • Coates • Collins • Cooper • Florida • Georgia • Green-Beckham • Gurley • Kentucky • LSU • Mississippi State • Missouri • NFL • NFL Draft • Nick Saban • Ole Miss • SEC • SEC East • SEC West • South Carolina • Tennessee • Texas A&M • Vanderbilt • Yeldon
Filed under: Alabama • Arkansas • Article • Auburn • Florida • Georgia • Kentucky • LSU • Mississippi State • missouri • Ole Miss • South Carolina • Tennessee • Texas A&M • Vanderbilt
Like this post? Subscribe to my RSS feed and get loads more!